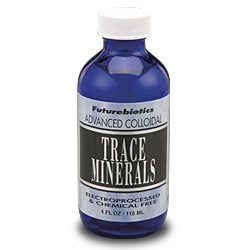 Trace Minerals Colloidal Futurebiotics Advanced Colloidal Trace Minerals are a very effective way of getting the trace elements your body needs for the vital role they play in maintaining optimum health, with no aluminum, cyanide, lead, arsenic or other harmful heavy metals. Contains no: yeast, salt, sugar, starch, wheat, gluten, soy, corn, dairy, animal products, artificial preservatives or colorings. Contains no yeast, starch, sugar, salt, wheat, gluten, corn, dairy products, soy, artificial coloring, preservatives or animal products. Supplement Facts Serving Size: 1 Teaspoon Servings Per Container: 24 Amount Per Serving %DV Calcium (as gluconate) .7 ppm Iodine .006 ppm Magnesium (as gluconate) .03 ppm Zinc (as gluconate) .03 ppm Selenium (as selenite) .000021 ppm Copper (as gluconate) .001 ppm Manganese (as gluconate) .0008 ppm Chromium (as chloride) .0000098 ppm Molybdenum (as citrate) .0008 ppm Potassium (as sorbate/benzoate) .0004 ppm Lithium (as citrate) .000012 ppm Silica (as colloidal silica) .007 ppm Silver (as colloidal silver) .0000021 ppm Vanadium (as vanadyl sulfate) .005 ppm Contains less than 1% of the daily value for these nutrients Other ingredients: Deionized water. Directions: As a dietary supplement for adults, take 1 teaspoon up to 3 times daily (preferably between meals) or as recommended by your healthcare practitioner. Best taken alone. May be mixed with water or juice. Pregnant or lactating women should consult a physician before using.

Click Here to Learn More… (new window)

Additional info: Coupon THX2OFF50 for 2 dollars off on orders over 50 dollars. Savings over retail up to 50%. Free shipping over 79 dollars.